Following the right course on land and water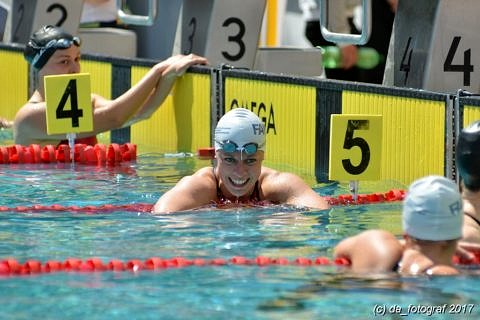 FAU law student and medal-winning swimmer, Daniela Karst, will be in her element on the first leg of Science Sets Sail
Many would find legal research hard enough, but the 23-year-old FAU student, who takes a keen interest in human rights topics, is also a champion swimmer. I'm sure that the other participants on leg one of Science Sets Sail will be reassured to have such a strong swimmer on the team (just in case!)
Originally from Puschendorf near Erlangen, Daniela recently took part in the 129th German Swimming Championships in Berlin where the she achieved top-20 placings in the 50m, 100m and 200m butterfly events. In 2016, she won a gold medal in the 4 x 100m relay at the 128th meet. She's also in training for the third European Universities Games in 2018 – last year in Croatia she won two medals at this meet: silver over 50m and bronze over 100m (both butterfly).
We couldn't resist asking Daniela a few questions.
You've been studying law at FAU since 2013, what next?
Daniela: Theoretically I could have finished my studies this year. However, I had the great opportunity to train intensively for the European Universities Games and the German Swimming Championships last year. That didn't leave enough time to put the same effort into my final exams, so I´ll be a hardworking student next year too, and now plan to graduate in spring 2019. What next? I can imagine working at the German Bundeswehr as it includes international criminal law. This fits perfectly with topics I've been able to research at ICLU* and CHREN*.
What do you most hope to have achieved by the time the Thor Heyerdahl reaches port?
Daniela: I'm joining the CHREN team on Science Sets Sail and the whole group will be people around my age. As a student who hasn´t had much contact with other researchers yet, it´s a great chance to get to know to other young people who are interested in human rights research – and I think the atmosphere on the ship is way better than a meeting in a normal classroom.
Personally, I hope to overcome my fear of swimming in the sea! Most people can´t imagine that a professional swimmer could fear swimming in the sea, but I find it challenging to jump into water where I can´t see the bottom. Luckily I'm joining a lifesaving training camp with the German Lifesaving Team in Rostock in the Baltic Sea just before the trip, so I´ll be well prepared!
Are you most likely to be cooking up a storm in the galley, swabbing the decks, or pulling on a rope?
Daniela: I´ve heard that looking at the horizon when you´re feeling sick can help, so I'm sure to be outside on deck. I'll definitely try climbing the rigging!
What luxury will make it into your luggage?
Daniela: I´ll definitely bring my swimming goggles and swim cap. If I´m brave enough to jump into the (cold!) water, I'll get in a few metres swimming – next season starts as soon as we get back.
* ICLU: International Criminal Law Research Unit of the FAU. CHREN: Center for Human Rights Elangen-Nuremberg.